Kembujeh Lower Basic School
Kembujeh Lower Basic School, located in Kembujeh, Kombo, The Gambia, was one of the initial pilot school installations sponsored by the Ministry of Basic and Secondary Education. Over the course of a weekend, chief carpenter Pa Demba assembled and installed ten bottle bulbs each in two classrooms with perforated block-style windows, which are particularly poor sources of light. The completed installation significantly increased available light in the classrooms, enabling students to better read and earning acclaim and laudations from students and administrative staff.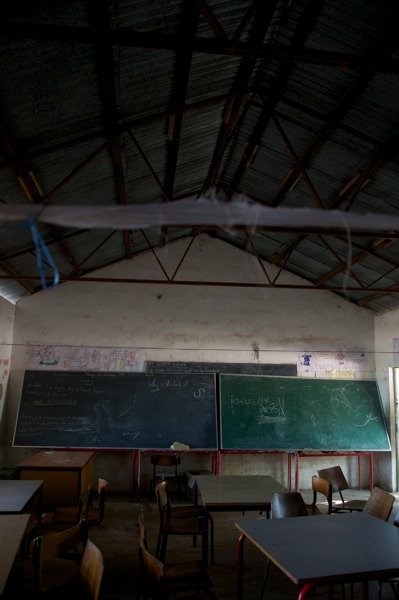 The view from inside a perforated block window classroom at midday.
A classroom in the same building as the prior picture with solar bottle bulbs installed.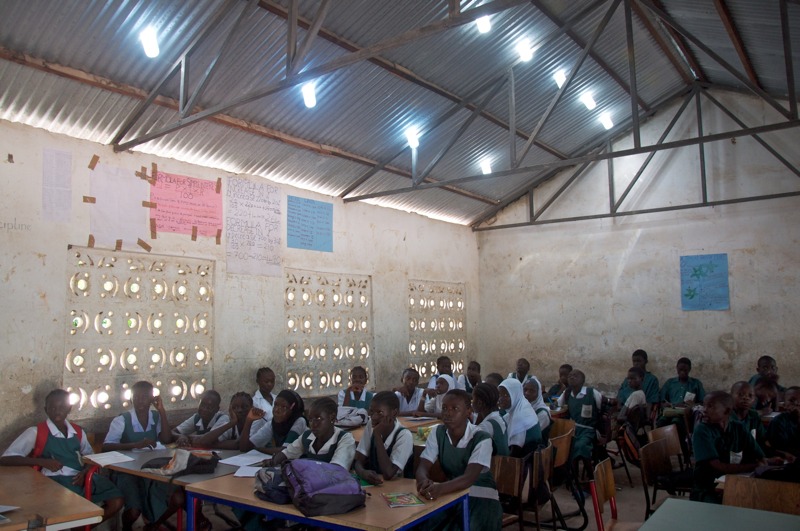 Another classroom at Kembujeh Lower Basic School after installation of ten Solar Bottle Bulbs.
Omar's Kitchen
Omar's Kitchen is a long-standing institution in The Gambia. Frequented by a mix of locals, relief workers, and expatriates, and centrally located at the Traffic Light junction in Fajara, Omar's is an ideal location to demonstrate the efficacy of Bottle Bulbs.
When Omar recently had a new kitchen building constructed, GamLight installed eight Bottle Bulbs in the roof. Omar can see to cook more safely and comfortably, and anyone interested in seeing functioning Bottle Bulbs is welcome to take a look–and perhaps enjoy some of Omar's delicious local dishes.
Chief Carpenter Pa Demba gets topside, preparing to install preconstructed Bottle Bulb assemblies.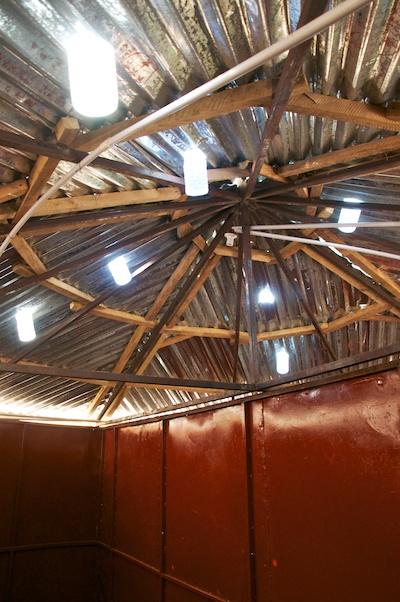 Omar's new kitchen, replete with light from eight Bottle Bulbs.
Omar inspects the newly-installed Bottle Bulbs for the first time.